DEERHOOF/San Francisco
Experimental, No Wave, Indie Rock, Noise, Neo-Dada, Lo-Fi, Avant-Pop
musicians:
Greg Saunier (drums, keyboards)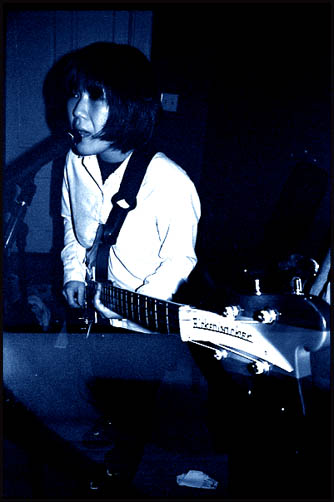 Satomi Matsuzaki (guitar, bass, vocals)
John Dieterich (guitars/manipulations)
Chris Cohen (keyboards)

similar artists:
Blonde Redhead, Boredoms, Bride of No No, The Lowdown, Half Japanese, Caroliner, The Fisticuffs Bluff, Elders Of Zion, Xiu Xiu

other suggestions:
El Guapo, Replikants, Unwound, Sea Tiger, Polvo, Jad Fair and Jason Willett, Wesley Willis, Love Life, K.K. Null, Godspeed You Black Emperor!, Ruins, Danielson Famile, Lake Of Dracula, Rovo, Negativland, God Is My Co-Pilot, The Feelies, Helium, Sonic Youth, Jackie-o Motherfucker, Nurse With Wound, The Scissor Girls, UT, Melt Banana, Yoko Ono, Harry Pussy, Dahlia Seed, The Curtains, Shotmaker, Marmoset, Black Dice, Atombombpocketknife, Double Nelson, Uzeda, The Lapse, Arab on Radar, ...And You Will Know Us by the Trail of Dead, Poem Rocket, The Anasazi, Teengenerate, Erase Errata, Secadora, CAndiES, Jad Fair and Daniel Johnston, Pepito

Everybody knows pop music is full of latent danger; were it not, people wouldn't get so excited and upset over it. San Francisco experimental quartet Deerhoof has found new ways of unleashing this danger. They do so by relentlessly tweaking the basic structures of the pop song, sometimes playing them straight, sometimes turning them on their head, and sometimes abandoning them entirely in favor of freeform noise abstraction. Blonde Redhead and the Boredoms have often been offered by critics as reference points (in large part, perhaps, due to the presence of Japanese female vocalists with unconventional singing styles in all three), and while those comparisons do help contextualize Deerhoof's sound, they fail to get to the essence of what this unusual band is all about. There are indeed many avant-garde elements of their songs -- noisy guitar figures, beeping Casio lines, periodic bursts of drum clatter, tinny bedroom production, singer Satomi's singsong vocal delivery that always has you wondering "where is she taking that melody?...is that a melody" -- but what's particularly remarkable is the way they unleash an effervescent childlike energy. Not na´ve by any stretch, just childlike. When Deerhoof gets real noisy, it's the equivalent of a child on the kitchen floor pulling all the pots and pans out of the cupboard. In other words, Deerhoof makes experimental pop nursery rhymes.

Deerhoof formed in 1994 and in 1997 released their debut LP The Man, The King, The Girl, which explicitly alternated between raucous, shrieky, lo-fi noise and more accessible pop deconstructions. By contrast, the entirety of their 1999 follow-up, Holdypaws, was "song-based," though the so-called songs' bizarre arrangements and structural dynamics chilled and prickled. 2002's Reveille continued this approach, charming with whimsical sweetness and tormenting with dyspeptic noise assaults. All three albums are available on the Kill Rock Stars experimental sub 5 Rue Christine. The tottering, off-balance "My Pal Foot Foot" is a cover of a song by the obscuro early '70s New England trio of sisters known as The Shaggs, from the audaciously titled 2002 Animal World compilation, Better Than the Beatles: A Tribute to the Shaggs.